Choosing the location for your next photo session can be one of the hardest parts about booking new clients. But if you're in the Raleigh area, you are in luck because Raleigh offers many locations for any type of photo session—parks, bustling downtown streets, museums, and more.
Here are the top five locations to consider for your next session. We'll also share what you need to know about each location.
Dorothea Dix Park
Photo provided by Three Region Photography
Nestled between downtown Raleigh and North Carolina State Campus, the historic Dorothea Dix Hospital grounds lay waiting for the city to decide how to use the area. For now, the parks and walking trails throughout the grounds provide some of the most peaceful and beautiful landscapes in the city. For this reason, this is a must when considering locations. 
The 'big field,' sitting at the intersection of Hunt Drive and Umstead Drive, is a wide-open area with rolling hills and plenty of space to give you that rural open area feel. The big field also plays host to various festivals and events throughout the year, and there are usually small art installations scattered all over the field area. 
Just across Umstead Drive, during the month of July, you can find the Sunflower Field that happens yearly in Dorothea Dix Park 2105 Umstead Dr, Raleigh, NC 27603. This is a beautiful, almost dream-like, location for summer sessions that features a view of the downtown skyline at just the right angles. If you take a short walk through the smaller field next to where the sunflowers grow each summer, you'll find one of the best views of downtown in the whole park. 
The Dorothea Dix Park area is one of the more popular places for photography, running, walking dogs, etc, so you will need to be ready to possibly work around people that are outside of your control. However, the Big Field is large enough to make your clients appear isolated from the rest of the world. This is also a location where you will likely do a lot of walking, so I would recommend preparing and carrying minimal equipment. Late morning or late afternoon is best to catch those perfect golden hours.
JC Raulston Arboretum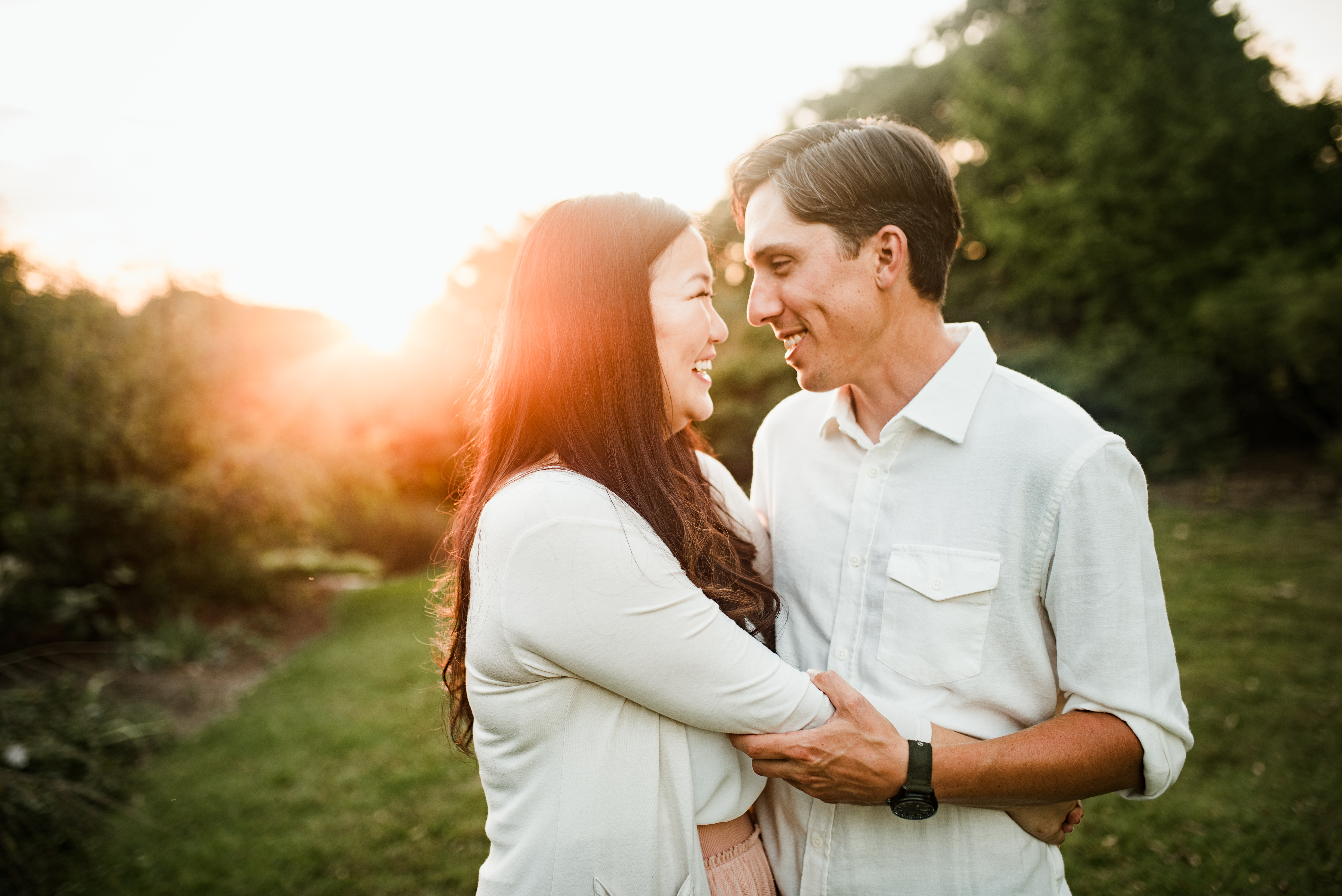 Photo provided by Joanna Sue Photography
On the western side of North Carolina State University, just off of the 440 outer beltline, is the JC Raulston Arboretum 4415 Beryl Rd, Raleigh, NC 27606. The gardens are an absolute must for portraits of any kind. However, you will need to leave the pets at home for this one as they do not allow pets on the grounds.
The JC Raulston Arboretum features various gardens, each with vastly different plants and landscaping that makes this one of the most versatile locations in Raleigh. The winding pathways guide you through the Japanese garden, butterfly gardens, terraces, a rose garden, and many more unique and picturesque scenes. 
It is worth noting that each garden area can be rented out individually for events, so you may have to skip over certain sections depending on their bookings. Also, while photography at the Arboretum is free, they do ask that their rules and guidelines be adhered well being of the plants. Visit the Arboretum or their website for more information about guidelines and their events calendar so that you can better plan your sessions for this location.
Warehouse District
Photo provided by Three Region Photography 
One area currently getting a lot of attention is the Warehouse District in downtown Raleigh. With the brand new Union Station 510 W Martin St, Raleigh, NC 27601 and the Dillon buildings 223 S West St, Raleigh, NC 27601 being modern structures built on historic footprints, there are tons of unique locations, new and old, to use for your photos. 
In the Warehouse District, mixed in with plenty of bars and restaurants, you can find the CAM Raleigh 409 W Martin St, Raleigh, NC 27603, Raleigh Denim, the mural on the Trolley Pub building 323 W Davie St, Raleigh, NC 27601, and the Bloomsbury Estates apartment building 710 Independence Pl, Raleigh, NC 27603—among other notable places.
What makes this area unique is that you could come here before the session and find specific locations you want to visit, or you can walk around with your clients and discover fun places to shoot together. Also, if it starts to rain, you can pop into any of the bars or restaurants and get some fun shots of your clients interacting together in a more informal/less posed way.
The North Carolina Museum of Art
Photo provided by Three Region Photography 
From the modern architecture of the museum to the cloud chamber in the woods that looks like something a hobbit would live in, the grounds of the North Carolina Museum of Art 2110 Blue Ridge Rd, Raleigh, NC 27607 is one of the top locations for photos of all types. You can find sculpted walls and fences covered in flowers for backdrops, or even position your subject in the tall yellow grass to create the appearance of a completely different location. 
Many hours can be spent outside the museum, using all the different areas for a multi-location feel in your photos. Commercial or professional photography work is not permitted inside the actual museum, so plan to be outside making use of all that the outdoor areas have to offer. The museum is closed on Mondays so you will generally find less people around the grounds because of this, but keep in mind that no tripods, lights, or other equipment are allowed 
It is also important to note that the museum requires a permit for any commercial photography. Permits may incur a fee however these fees tend to be for larger events like weddings or other events requiring additional museum staffing. Personal or hobby work is welcome without approval.
Fayetteville Street
Photo provided by Joanna Sue Photography
At the heart of downtown Raleigh is Fayetteville Street. On one end you'll find the Capitol Building 1 E Edenton St Union Square, Raleigh, NC 27601 and on the other is the Duke Energy Center for the Performing Arts 2 E South St, Raleigh, NC 27601. Both are beautiful buildings with brilliant architecture. Along Fayetteville Street you'll find City Plaza 400 Block of, Fayetteville St, Raleigh, NC 27601, numerous cute alleyways, the Wake County Courthouse 316 Fayetteville St, Raleigh, NC 2760, and many other styles of architecture with facades on either side.
This is a particularly wonderful location since you can start on one side, with one of the "bookend" buildings, and work your way to the other side. As you venture along the sidewalks, you can capture unique candid moments of them walking together, looking into the windows of a local storefront, and making use of the many alleyways that could be decorated for an upcoming holiday.
On any given day, you can find photographers walking up and down Fayetteville street with their clients because of the variety and creativity that can be discovered here. Something to keep in mind with shooting here is that you will have to deal with a lot of day-to-day hustle and bustle that comes with a main downtown street. 
Fayetteville street is also the main location for many events throughout the year; Hopscotch Music Festival, food truck rallies, and Brewgaloo are just some of the fun events that can be used for photos with clients.
Written by Mark Hoffman Raleigh resident and active photographer in the community, Mark is currently a freelance concert photographer but has previously worked as a wedding and portrait photographer. When not photographing one of the many musicians coming through the Raleigh area, Mark likes to enjoy a Durham Bulls baseball game at the beautiful DBAP or a Carolina Hurricanes hockey game. www.raleighmetromedia.com