A Guide for Homeowners and Real Estate Agents
As a real estate agent, one of the most important parts of your job is getting your clients' homes sold quickly and for as much money as possible. There are plenty of tricks to accomplish this but one of the things that are essential for making a quick and profitable sale is to get great photos of the property. A buyer's first impression of a house is often the photographs they see online and the right ones can determine whether someone expresses interest in a listing or moves on to the next one. 
According to the National Association of Realtors, nearly 90 percent of buyers find online photos helpful when it comes to searching for homes that pique their interest. More than half search for homes on their phones or tablets. This means it's essential that your listings feature numerous high-quality images taken on DSLR cameras that appeal to buyers. Listings with pictures like this tend to sell in significantly less time than homes photographed by point-and-shoot cameras and they tend to sell at a higher price.
How Much Do Real Estate Photographers Cost?
Professional photography doesn't come cheap but it's an important investment and can help you get a higher selling price for a listing. Basic real estate photography shoots, depending on your area, tend to cost a few hundred dollars. Most real estate photographers have a metric they go by in pricing and it can get super complex. Photobooker has made it easy with our "guaranteed pricing" where Photographers set their rates while you set your own budget. This way, you can find the photographer that best fits your needs. We have our real estate photographers with different prices range from $50- $300+, you can filter the price range you're looking for on our photographer listing page. 
Here are some of the Photobooker Real Estate Photographers, take a look! 😊👇
Kelly D., a Photobooker photographer from Garner, North Carolina. Check her out here!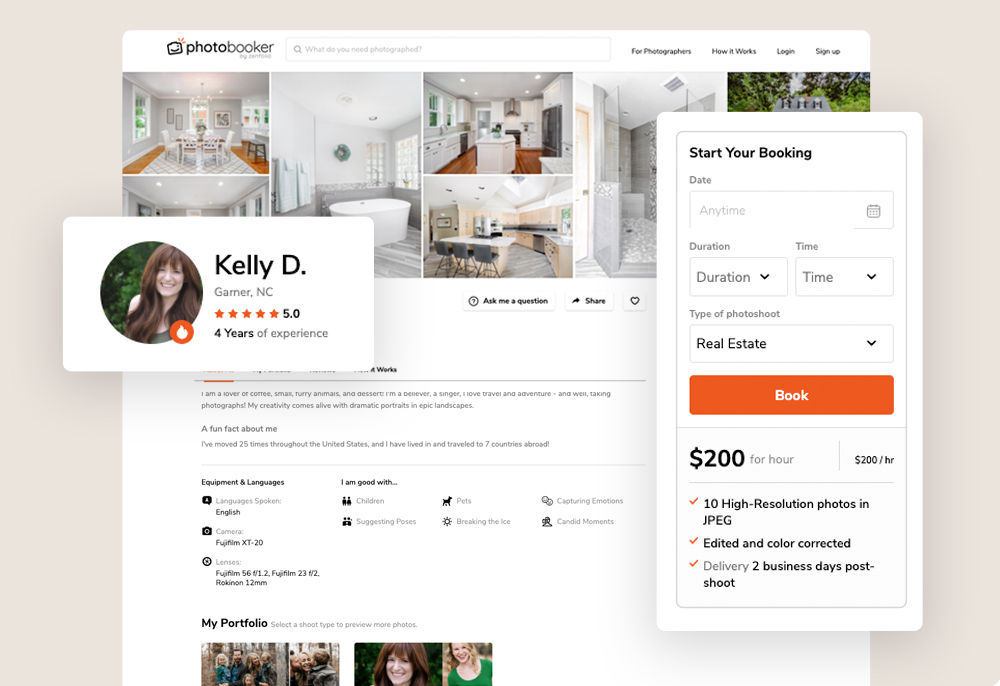 Tom H., a Photobooker photographer from Mountain View, California. Check him out here!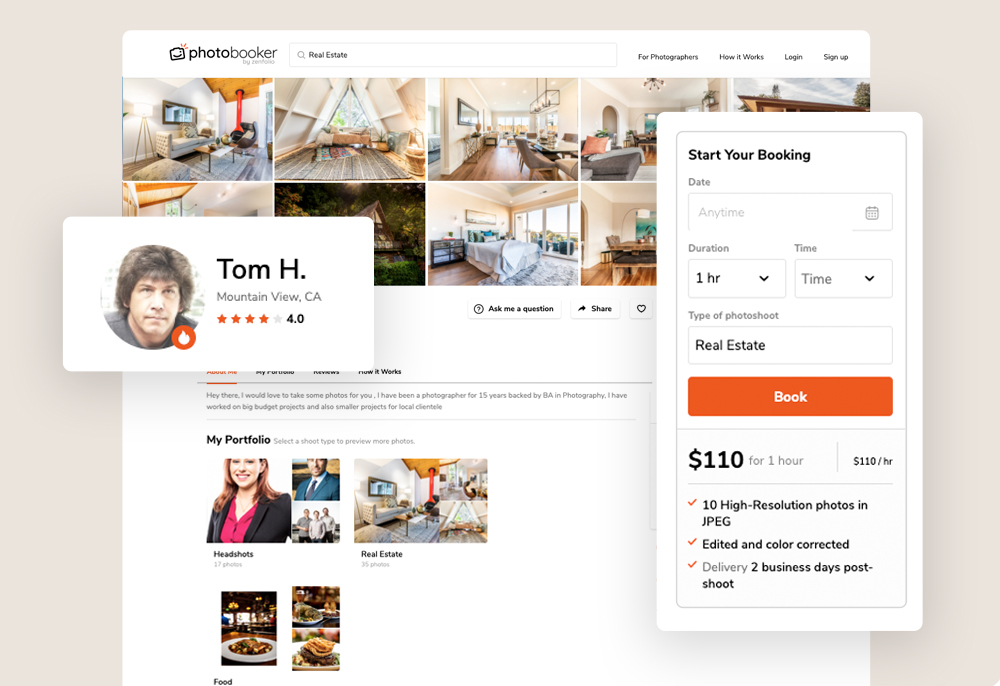 Sara S., a Photobooker photographer from Buford, GA. Check her out here!
Steve N., a Photobooker photographer from Los Gatos, CA. Check him out here!

What Images Must You Include in Your Real Estate Listing?
There are several must-have shots that you should include in each listing for every home. Here's our check-off list for you: 
Exterior of Home

Kitchen

Common Areas 

Dining Area

Bedrooms

Bathrooms

Garage/ Storage Space
#1 Exterior of Home
This is the first thing buyers notice when they arrive at the home so you don't want any surprises. Even if the home lacks curb appeal, a professional photographer can capture at least a photo or two that identifies the home and lets potential buyers know what to expect. It's a good idea to do a bit of staging and make any necessary repairs before taking the photos – just as you would in general when selling the home – but the main purpose of exterior photos is to just let buyers get a first impression. 
If you're selling a home with an outstanding exterior, of course, include plenty of photos. In choosing what to show these are some of the questions you can ask yourself:  
Does the home feature great landscaping? 

Is there an impressive swimming pool or entertaining area? 

Does the exterior make a big impact when it comes to the overall character of the home? 
A professional photographer should capture these things so you can highlight them in your listing like these ones here: 
FRONT OF HOUSE: 
Image from Jonathon M. You can check out his work here
BACK OF HOUSE:
Image from Mathew L. You can check out his work here
#2 Kitchen
As you might expect, potential buyers want to know what the kitchen looks like in a home. Chances are it's one of the most important considerations in their search. The best real estate photographers photograph the kitchen from several angles and highlight anything special about the space. Does it have a large island? New appliances? Unique flooring or a large bay window? All of these things should be features in the photographs of the kitchen.
Image from Kelly D. You can check out her work here

#3 Common Areas
Once the common living areas of the home are decluttered, have your photographer snap a few pictures of the space. They must appear large enough to accommodate family and any entertaining needs of potential buyers, but also appear inviting and cozy. A good photographer can use a combination of angles and lighting to achieve the best results in common area photos.
Image from Amy L. You can check out her work here

#4 Dining Area
A few photos of the dining area can help buyers determine if a listing can accommodate their family's mealtime needs as well as their entertaining plans. Dining rooms should be tidied up and depersonalized before photographing and the space should appear warm and inviting
Image from Sara S. You can check out her work here
#5 Bedrooms
There are a few things people want to know about bedrooms when viewing a home's real estate listing: how many there are, how big they are, and whether the master has any desirable features, like a private bathroom.
Image from Tom H. You can check out his work here

# 6 Bathrooms
Take pictures of the bathrooms for your listing and highlight any special features. Does the master have a large tub? Is there an attached laundry or closet space? For the most part, bathroom photos are functional and you're just showing potential buyers whether the bathrooms are up-to-date and clean but if the homeowner has invested any money or time into making a bathroom special, make sure this stands out in the photos.
Image from Quincy W. You can check out his work here

#7 Garage and Storage Spaces
Garages, unfinished basements, attics, and any other storage spaces aren't necessarily the most attractive areas of a home but they can certainly lure potential buyers. Make sure the photos highlight how large these spaces are and that they have the potential to help keep the home organized.
Image from Brian V. You can check out his work here

What Questions Should You Ask a Real Estate Photographer?
The questions you ask a real estate photographer help you ensure that you choose the right person for the jobs. A few of the most important questions include:
"Do you have experience with real estate photography? Have you worked in a particular style home?"
Narrow down your choices by looking for photographers who work specifically in real estate. The best photographers in the business might not produce the pictures you want if they aren't experienced in dealing with real estate listings.
"Do you have professional equipment suitable for real estate photography?"
Just because someone takes pictures of houses for sale doesn't mean he or she is a professional real estate photographer. The best pictures of your listings are going to come from someone who takes them with a DSLR camera that has multiple lenses to work with and capture all of the right angles.
"Do you offer a range of services for real estate?"
Not every photographer is going to offer what you need for a specific listing. Do you want aerial shots? Exterior and interior shots? Shots that highlight something specific or require specific equipment? The more you know about what your photographer can do in advance the better.
"How fast are you able to upload images?"
Obviously, you want the photos back to you as quickly as possible. But if editing is required or you're working with someone who has a slower turn-around time, you need to know how long the wait will be. Real estate photographers, arguably more than any other type of photography specialist, can take pictures and get them back to you very quickly. Within Photobooker service, within 48 hours of your photoshoot, you'll be able to view, download, and share. Enjoy it all again and again.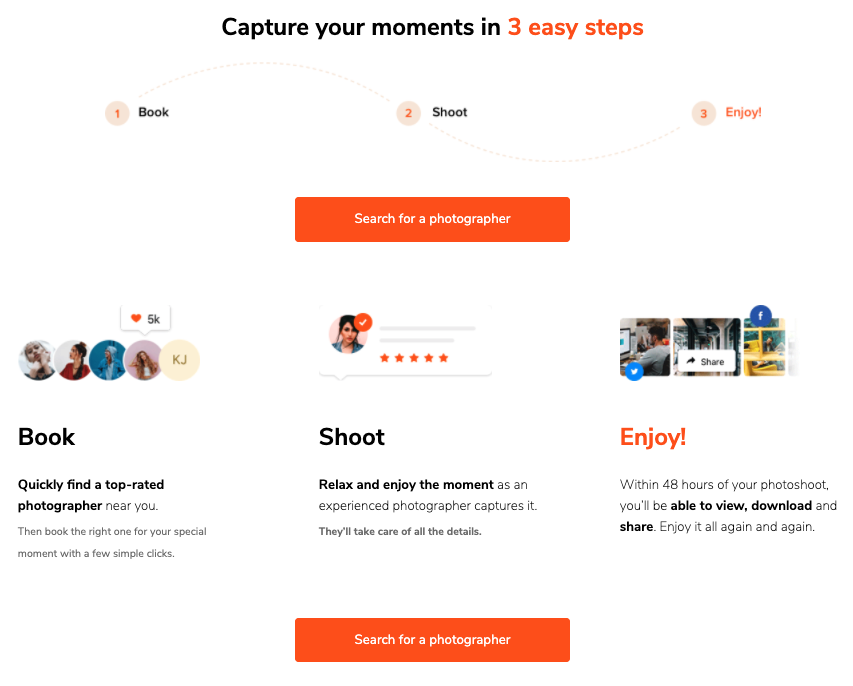 "Do you focus on customer service and support? What if I have a problem?"
Much of your concern here depends on how much of the work you handle but it's important to know someone will be there to help you once the pictures are taken. Make sure you have a contact person and his or her phone number before getting started.
Have you hired a photographer before getting shots for your real estate listing? Share your experience with us in the comments below!