With the pandemic having changed the way we live, we've had to get creative about how we'll keep moving forward. Having your big dream wedding isn't an exception to that matter. Micro weddings have been a trending solution to getting married with your loved ones there to watch. Big weddings are becoming a thing of the past as we make the transition into a more compact lifestyle. This may not have been what you originally planned or dreamed of since you were little, but it's a good reminder that once this is all said and done, you will certainly remember how special this day was with the people who have always been closest to you. Weddings that had been cancelled or rescheduled from 2020 are expected to bring in a 30-35% surge in 2021. Also think of it this way, with a smaller wedding with limited guests, you have a lot more flexibility and budget for photographers to capture the moment. And with fewer people, chances are that photographer will be able to zoom in on the most intimate moments with fewer distractions in the background. 
Consider this upcoming trend as an option when you start planning your upcoming wedding. From finding vendors to booking a photographer, we offer ideas on how you can enjoy your mini wedding celebration.
Is a Micro Wedding Right for You?
Even if you've always dreamt of a large, lavish wedding with all the friends and family you've ever encountered throughout your life, a micro wedding might be the better alternative if you want to save money and desire a more intimate surrounding. Intimate weddings accommodate no more than 20 guests and only differ from elopement in that you can still enjoy the festivities of a traditional wedding celebration. Wedding costs have averaged well above $30,000 with much of that accommodating guests or going towards a venue. A micro wedding gives you the chance to host your wedding just about anywhere you wish as your guest list will be smaller. Some couples have chosen less traditional "venues" that you can also enjoy such as:
The forest

The front steps of the Chicago Art Institute

A friend or family's backyard

A cliffside overlooking the ocean

The beach (as an unpaid option)
As you can see, spending most of your budget on a venue isn't entirely necessary when you can get creative about where you want to host the ceremony. You can skip all the bells and whistles (and really, the price tag) of a popular venue, only to enjoy what exactly you want. You'll have the flexibility to customize the setting to have just what you need and want. You'll still have the reception, cake and dance floor to celebrate with only your closest friends and family – the people who will always mean the most to you. Really, a micro wedding eliminates the size of the guest list and makes the planning process easier to manage.  
What to Plan For
Micro weddings are just the same as any other wedding you've been to, only with fewer than 20 guests in attendance. You can have just as much fun as any other wedding and have the chance to celebrate. You can still plan for a first dance – just keep in mind gathering on a dance floor may be a little more difficult or not permitted, even with a smaller crowd. Also, absolutely consider a photographer to capture the moments that you'll treasure forever. You can have all the food you want and the cake of your dreams. Shop for the perfect dress or tuxedo for you and your bridesmaids/groomsmen. Use this opportunity to personalize party favors for each of your guests now that you have more time to dedicate to each of them. Whatever you want to have at your wedding ceremony and reception, don't miss the chance to have fun! 
The Venue and Guests
Let your imagination run wild as to where you'll be hosting your special day. As we mentioned earlier, it can be as unique and random as the steps of the Art Institute, or you can seek out venues specifically made for mini or intimate weddings. Do be picky when you're selecting a spot that can fit your guests comfortably. For no more than 20 guests, you won't feel the need to book a large spot that will have too much excess space. Look for venues that specialize in intimate weddings that make sense for what you want – you might be able to find a great package deal worth every penny! Speaking of guest capacity, don't forget that you're in charge of who's invited and who isn't. In this situation, don't be afraid to say no to who gets an invite. It's your wedding and you shouldn't be afraid of who you have as a guest and the limit you must stick to. Be mindful of plus ones and how you can ensure each guest's comfort should they decide to attend.
Since you'll have only a handful of guests attending your micro wedding, consider adding some personal touches to their invitations or their seating arrangements. A handwritten note, rather than a mass-produced printed one, can make your guest feel special and wholly welcome to your big day.
The Vendors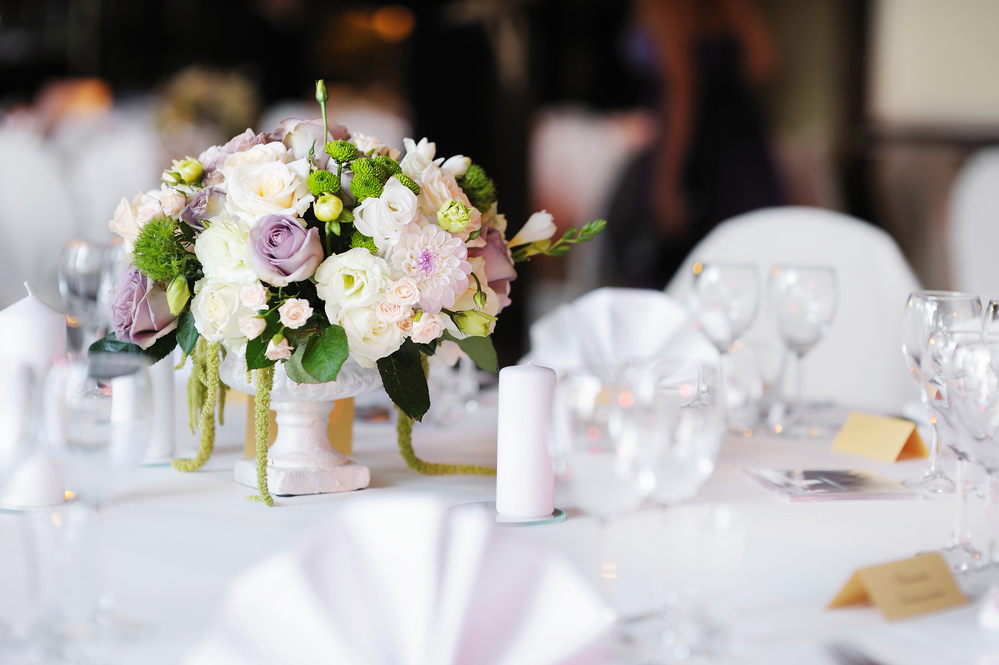 A mini wedding doesn't have to skip out on a linens, seating or florist expert. You'll still have the chance to scope out a local professional who doesn't charge a minimum spend and won't require a minimum purchase order. Referral contacts can help out here, you might even find someone looking to break into the industry or support a mom and pop shop! Look for smaller vendors that don't necessarily need to stick around during the wedding. There are catering options that will produce the food you want and drop it off to you where you're hosting your wedding. Since you are hosting a micro wedding, look for vendors that can also prepare a snack bag with a cocktail so that everyone can celebrate this moment. These could be smaller bites that don't require a caterer to serve guests and eliminate the buffet-style picking. Guests may also have the option of a mini-sized bottle of champagne to send the bride and groom off on a toast after the ceremony. The same applies to florists and linens who can drop off your order and return at the end of the night. Since your guest list likely won't exceed 20, it will be much easier to manage food or flower arrangements. 
The Photographer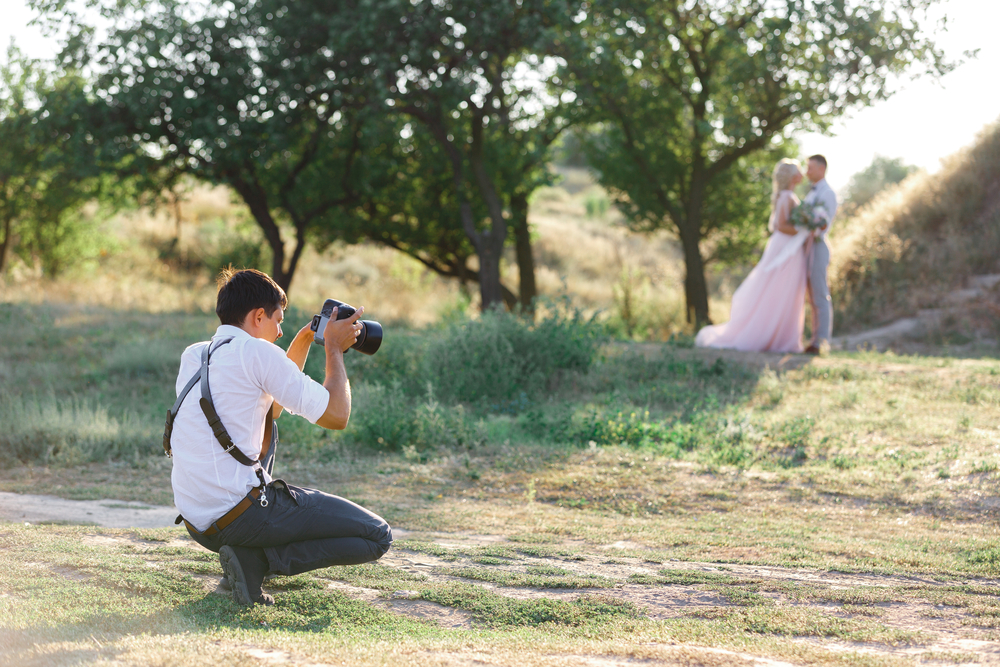 Last but certainly not least, don't forget the photographer! A photographer will always be able to get the job done, no matter the size of your party. But having one at your mini ceremony and reception will really give your big day a chance to shine. With fewer distractions and obstacles in the way of capturing the perfect moments, your photographer will be able to focus on the smallest details to bring out every highlight of your event. Now that you have fewer guests than originally planned for, that means fewer meals, seats and decor to accommodate for every one of them. Your budget will be a little more freed up to have a photographer that can truly capture the moments of this special day. Local photographers are easy to find too! There's no need to scour the internet when you can rely on an easy geotargeting tool like what PhotoBooker has to offer. With talented photographers across the country, you'll surely find someone who will share their passion to shoot a gorgeous wedding like yours.