Everyone knows that planning your dream wedding and turning it into reality can be a stressful process. From securing a venue and choosing a caterer to, of course, purchasing an amazing dress, there's already a ton to consider at every turn. What's more, to ensure that your big day is well documented and beautifully captured, you'll need to hire a stellar wedding photographer. There's just one problem: how do you do that?
Whether you're wondering what to look for in a professional photographer, how much you can expect to pay, or what a reasonable amount of time is to wait to get your photos back, we're here to answer these questions and help take a little bit of the stress out of planning your wedding. Let's take a look at some frequently asked questions about finding, booking, and working with a wedding photographer.
Finding the Best Wedding Photographers — Common Questions
How do I find a wedding photographer?
First things first: where do you even start your search for the perfect wedding photographer? One obvious potential path is to ask friends, family, or co-workers to see if they have any recommendations. However, one downside to that plan is that you may feel obligated to take their suggestion even if it doesn't seem like a good fit.
Another option is to search the Internet, typically running a "near me" search in Google. This can give you a jumping-off point and provide you a few options. However to get a better feel for a photographer's work and what their customers say it's better to go to a dedicated photographer site, like Photobooker.com. From there, you can consider reviews, compare portfolios, and view availability to help whittle down you list of potential hires.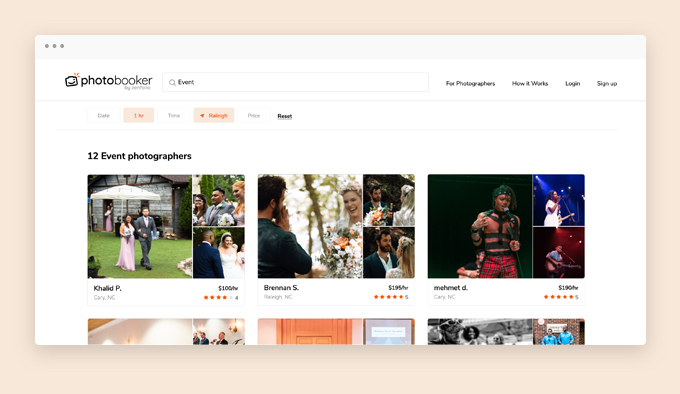 What should I look for in a wedding photographer?
Commonly, exploring a photographer's portfolio will be your first step in determining if they're right for your wedding. Looking through past events they've captured will give you a sense of their style as well as any potential strengths and weaknesses. For example, if you see that a photographer's portfolio is mostly made up of outdoor shots and your venue is indoors, you might consider asking to see comparable images or look for a photographer with an indoor specialty. 
After you've found a photographer whose work you like, the next step is to ensure that their personality and vision for your event match your own. Like any professional, certain photographers may have particular ways they like to go about things. Unfortunately, this may sometimes clash with what you had planned. In some cases these differences can be resolved but, when in doubt, it's better to go with a photographer who's fully on board with your vision than to compromise on your big day and regret it later. 
Finally, another major consideration to make when hiring a photographer involves money — as in how much will their services cost you? Depending on how strict your budget is, you may even want to move this question higher up your list so that you don't fall in love with a photographer's work only to learn that they're out of your price range. Although talking about money can be awkward at times, keep in mind that these photographers are professionals. Therefore, there's nothing wrong with inquiring about their rates and seeing what works and doesn't for your budget.    
Similarly, some photographers may have different service packages available that you can choose from. This can help give you a better idea of how much each service will cost you, allowing you to prioritize certain elements while cutting back on what's less important to you. 
What Should I Ask Your Wedding Photographer When Hiring Them?
Before you officially book a photographer, you'll likely want to meet with them (in person, over email, or on the phone) and ensure you're on the same page. Some questions you'll want to have answered include:
What are your rates?

Do you have specific packages or a la carte options?

What services are included in your packages?

What's your experience/background?

What equipment do you use?

How would you describe your photography style?

Can I view your portfolio?

Do you work with a team or solo?

Will you personally be the one shooting or will another photographer?

What are your policies regarding guests taking photos?
Remember: the goal of this mini-interview is to not only get to know the photographer but to also prepare and ensure that you know what to expect. It's much better to ask all of your questions ahead of time and get clear answers than to uncover a surprise down the road. Additionally, if you find the photographer you're speaking to is being short with you or isn't forthcoming when answering your questions, chances are they are not the right person for the job.
How do I book a photographer?
It shouldn't surprise you that wedding photographers are often in high demand, working at multiple events each month. Because of this, it's important that you formally book your preferred photographer before their obligations take them elsewhere.
Most of the time, booking a photographer will involve placing a deposit that will ensure their availability. Additionally, you'll likely want to negotiate a contract with the photographer, confirming all of the details of your event, what your package will include, and more. 
How far in advance should I book a photographer?
Once again, the answer to this will depend on whether you're getting married in the peak season or off-season, the location of your wedding, and how in-demand your photographer is. That said some experts suggest hiring your photographer as much as 12 months in advance to ensure availability. But, if you're already beyond that deadline, all hope is probably not lost — while it may take a of bit research on your part Photobooker provides you with details on a wide selection of wedding photographers near you. 
How much does a wedding photographer cost?
The price you pay to hire a wedding photographer will vary depending on a number of factors, not the least of which is their level of experience. While a less-seasoned photographer might charge you a few hundred dollars, many professionals will come at a cost of $1,000 or more. Of course other factors impacting your final price could include:
Location

Equipment used

Number of hours reserved

Amount of retouches needed to images

Individual or team of photographers

Types of photos delivered – crowd shots, portraits, group photos
Do I tip my wedding photographer?
In most cases, gratuity is not included in the price of photography services. That said, the topic of whether or not you should tip your wedding photographer can be a bit complicated. That's because some photographers may work for a larger company while others own their own operations. 
As a general rule of thumb, those who are contracted by a larger photography company are tipped more regularly since the total fee you pay likely won't be going directly to them. Meanwhile, independent photographers are able to set their own pricing, so tipping may not be as necessary. That said, if you want to be generous or felt your photographer exceeded expectations, tipping is almost always appreciated.
How much should I tip my wedding photographer?
Once again, the answer to this will depend on the situation. If you choose to tip, a standard minimum is around $50 while $100 is a nice, round figure. Of course, this can go as high as you'd like. Another consideration may be how many photographers are covering your event. If you have multiple shooters, you may choose to lower the per-person tip amount, while still likely staying above that $50 threshold. 
Working with a Wedding Photographer Before, During, and After Your Event
How do I arrange scheduling with my photographer?
It's important to keep in mind that, in many cases, a wedding photographer's job will extend beyond the ceremony itself. Often times the bride and groom may wish to have portraits taken with the wedding party and family before and/or after the ceremony. Moreover, these photoshoots may even take place at a location separate from the main venue. Therefore you'll want to make sure you take these sessions into account when planning your wedding day schedule. Once again, it's imperative that you and photographer (not to mention your family and friends) are clear on all of these details so there aren't any surprises.
How should a wedding photographer dress?
This might not be something that's top of mind when planning your wedding, but you may be curious how photographers typically dress for the big day. While this can, of course, depend on the photographer themself, typically they'll don clothes that may not be as formal as your other guests but are still dressed professionally. If you have any questions or concerns about what your photographer will wear, you can inquire ahead of time and make sure you're on the same page.
When should I expect to have my photos?
Given how many photos your photographer will capture during your wedding, it will take time for them to go through them all, edit them, and have them ready for you to view. Therefore it's important to be patient in the face of your certain excitement. At the same time, you shouldn't have to wait forever. 
First, it's always a good idea to discuss delivery timeframes with your photographer ahead of time so you know what to expect. But what's a reasonable amount of time? Unless otherwise stated, two months is a good bet. However, this can get pushed back during peak wedding season when photographers will have a lot on their plates. 
After all the effort you put into planning the perfect wedding, making sure that your memories are properly captured is paramount. Although finding the right wedding photographer can take time it is worth the effort. Fortunately, Photobooker makes that process easier. By asking the right questions, booking as far in advance as possible, and knowing what to expect when your big day rolls around, you can help ensure you have a beautiful wedding album to review for years to come.