All photo credits: Ethan R.
1 Week – 1 Month Old
It is best if babies are kept warm, cozy, and fed for the photoshoot! Womb and other noise machines are super handy when photographing newborns, too. Then I just hope they don't go #1 or #2 while they are being photographed (if they do, it's only natural and we can take a break!).  An experienced Newborn photographer can mold a baby this age into any position. As a best practice, feeding them before a session will get them settled and sleepy with a full belly! When photographing in someone's home, I like to bring shoe covers, a space heater, and a cushion for my own tush.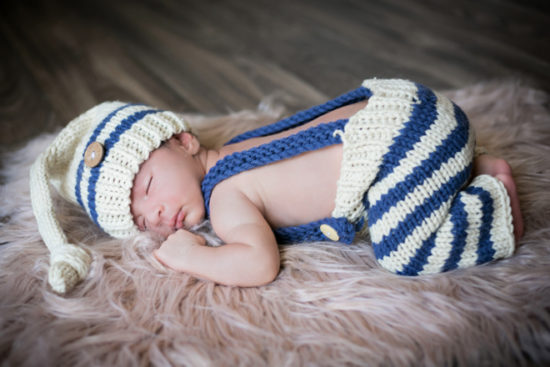 1 Month – 3 Months Old
Babies at this age are way more receptive to their surroundings, so I stay low at their level and use bell toys for attention. These babies are following with their eyes now, reactive to sounds, and tend to have lots of drool. Be prepared when you're photographing infants! Babies are still fairly flexible at this stage, and it can be a great time to capture them investigating their toes. Holding their head up on their own is always a great milestone and makes for a great photograph too! Keep in mind they are still building up their strength, work quickly and don't make them stay in a position where they have to hold their head up for too long or they will fatigue.
3 Months – 6 Months Old
These little but quickly growing babies can now reach for toys, and want to put everything in their mouth. Shaking toys and making noise will always get their attention. Parents can help by rolling them from their belly to their back and interacting, this connection always makes for a great image! Peek a boo is a classic way to keep a 3-month-olds attention and I often use that as a strategy. If the parents want an unassisted sitting pose, I may need to wait until the baby is closer to 6-7 months old, as it depends on the core strength of the baby.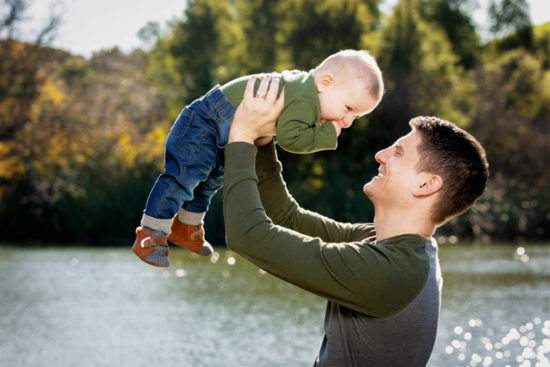 1 Year Old
12 month old babies have lots of expressions, use more toys, make silly sounds, and are often so happy and giggly. They are also incredibly wiggly! I use a toy to get the child's attention and bring it back to near the camera so they know where to look! Keep in mind, many babies are walking by this age. Including an activity or planning a larger backdrop with space to move around will be a huge help during the session. Their attention span is short, plan accordingly and start with your favorite outfit and set first for a successful baby photoshoot.
2 Years Old
At this age, many kids have their first experience with professional photos in preschool, if they haven't already had newborn photographs. They may be overwhelmed with photo day, so I speak softly and use happy tones, and any special toys are welcome! Some kids are open to connecting, and some aren't.  But that's okay. You won't win every single child over, but I do my best to get their best self showing! 
3 Years Old
By the time they are toddlers , I can ask these kiddos simple open ended questions, although some are still shy around new people. But, if I show that I am happy, they feed off of that! These kids can't read words yet, but they sure can read facial expressions and body language. It is important to always start positive, friendly, and give them a few minutes to get comfortable with me before I start shooting toddler-aged children!
4 – 6 Years Old
For kids this age, I use open-ended questions to start a light happy conversation, such as: "who's your favorite superhero?" This helps to start dialog and connection. For the biggest smiles, a silly potty joke is almost always a hit with this age group! I try not to ask a question where the child can just say " Yes or No".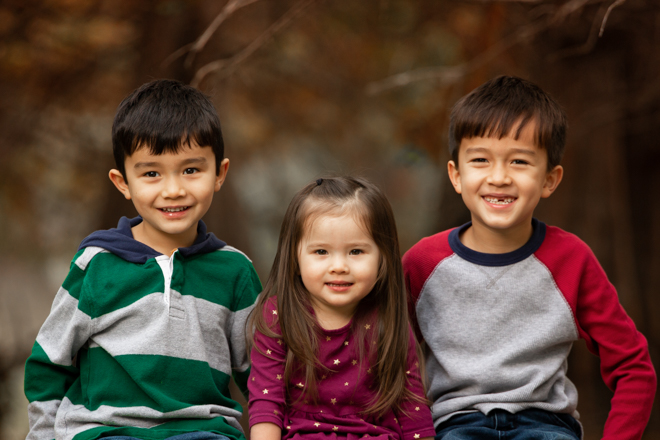 7 – 10 Years Old
Kids who are approaching the double digits are often still dressed by mom and pops.  This is a cool age to goof around with them. Talking or asking about favorite music, books, or games can help loosen them up, too. This is where a pre-session questionnaire can come in handy – the more you know about your subjects, the better you can connect with them! Be prepared; if you say a goofy comment you will get roasted (and I have been!).
11 – 13 Years Old
Now these kids are slowly becoming young adults, so there may be some occasional additude. I laugh it off! Pre-teens (tweens) often feel or look a bit awkward as their bodies begin changing, I have been there myself and remember the feeling. Playing music during the session can really help kids this age get comfortable more quickly – finding out some of their favorite things from a parent pre-shoot can be a huge help. This age is usually the start of puberty, so acne and oily hair may require a bit of additional editing post-shoot.. I am always happy to edit out things like shine, acne marks, and braces for a small fee!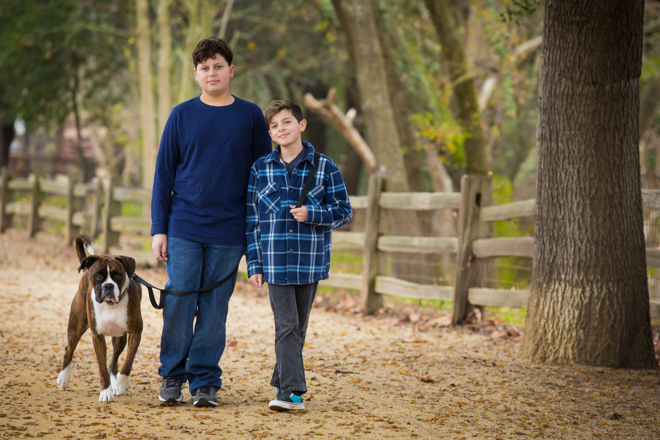 14 – 17 Years Old
When I'm photographing teens , I try to treat everyone as an adult. I obviously don't ask them about their 401k provider, but we can chat about sports, movies, social media, etc. In this age range, you will see a huge range in physical development; some will still be growing into lanky limbs and others will be through with puberty. Either way, many children are still adjusting to their new bodies. Building their confidence with honest compliments and praise about their posing, smile, eyes, etc will help them relax and get more comfortable during the session. I also start with an open-ended question and let the conversation flow from there. Again, playing music can help an uncomfortable teen stop overthinking being photographed and relax, too!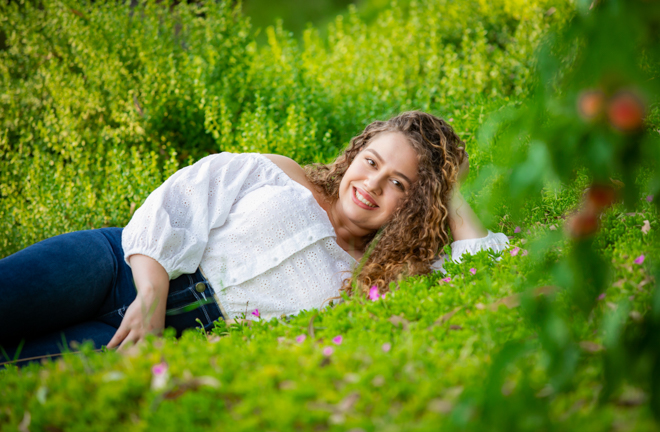 18 Years Old
SENIOR PORTRAITS WOOHOO! By now, these kids have had over 10 years of school photos, sports photos, band photos, and spent at least the last 4 years taking a million others on their cell phones. Some seniors know exactly how they want their bangs, outfit, pose, etc. Others may need help posing, which I can surely do! I guide them into poses where the senior will look confident and relaxed. Whenever needed, a little movement can help a pose look more natural. 
19 – 22 Years Old
They are still young,  but you're photographing adults now! They may be in college, trade school, or entered the workforce. By now, they have some life experience so I ask them those open-ended questions about themselves to break the ice, whether that be sports, food, gaming, movies, you name it! If I am photographing a bunch of football players at a college, I would not ask them about the last ballet they attended. That is, unless they really are both a football player and a ballet dancer… which is beyond impressive! Connect with them the same way you would any other adult – common experiences and genuine interest in your subject will always help people feel more confident during a session. 
23 – 35 Years Old
Adults in this age group may be getting engaged, have children, or may be focused on building a career and have a strong circle of like-minded friends. Most of my clients in this bracket hire me for weddings, family portraits, and professional headshots. Some may be  switching careers because they find out they don't enjoy their job or aren't getting that big promotion, they will hire me for a headshot that showcases who they are for the next journey. With social media playing such a large role in society, Personal Brand sessions are also growing in popularity. Some people have  a" best side", so it is never a bad idea to ask what they prefer! I want to work with people and their best angle.
35 – 55 Years Old
My clients in this group tend to include professional headshots and a ton of family portraits! Weddings and new babies aren't out of the picture, though, and are sometimes even more thoughtfully planned than those of younger adults. Larger family sessions that include grandparents, parents, and children can be a great way to showcase people skills for all ages, and create great memories for clients. A positive attitude and connecting with my clients is still the key! Open-ended questions are still a great idea, no matter what age you are, as it is providing new information for me to chat with you about.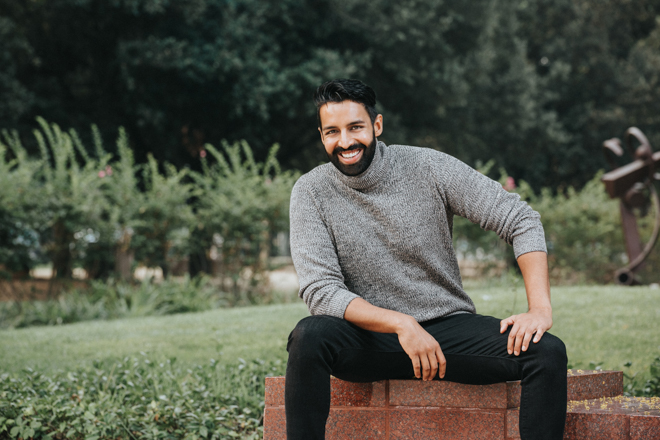 55+ Years Old
I understand that aging can be sensitive for many people, and maybe getting in front of the camera makes you nervous. I strive to make every single client happy and looking their absolute best, and paying attention to how the light affects the wrinkles and translucency that come with aging skin is important. A good angle and lighting will make all the difference! As always, connecting with people about their family, careers, or adventures helps set the mood of the session. Everyone loves chatting about their grandkid's first steps, child's new promotion, or that amazing trip they took to Italy!

Final Thoughts: 
I strive to be authentic. Whether the person I am photographing is a toddler, an adult, or a senior, they will all be able to tell if I am being fake. With me that won't ever happen, because I am 100% involved with my clients' stories and what they are sharing with me! I love connecting with people, plain and simple. The camera just happens to capture the moment when you and I are sitting on opposite ends. Tell me about your life: the struggles, the epiphanies, or what you are grateful for today. The smile, grimace, smirk, or cackle tells a story deeper than your surface expression. If I can get clients to laugh and ease any tension of being in front of the camera, then I have done my job right!  
You can book with Ethan R. here.